Venerable Dhammananda
is worthy like a mountain
Venerable Dhammananda
shelters like a green glade
Venerable Dhammananda
is as cheeky as a brook,
tinkling down the hillside,
feeding all creatures with humor
Venerable Dhammananda
is like a clear vista,
showing the way across the world.

Elizabeth Bacon, U.S.A.
dated Dec.12,2017
---
An Interview with Chatsumarn Kabilsingh
By Rebecca Warner & Holly Gayley
Dr.Chatsumarn Kabilsingh is Associate Professor of Philosophy and Religion at Thammasat University in Bangkok, Thailand. She is the editor of Yasodhara: Newsletter on International Buddhist Women's Activities.
A Buddhist scholar and an activist in social justice and women's issues in Asia, she is the author of Thai Women in Buddhism. This careful study uncovered the historical roots of women's participation in Buddhism and Buddhist monasticism—and their subsequent exclusion and oppression in the Theravada lineage. She has been in the forefront of a growing movement to re-establish the ordination of women in the Theravada countries of Southeast Asia.
            Among her many activities, she is the founder and director of the Home of Peace and Love near Bangkok, a shelter for victims of prostitution and rape that is supported by the Peace Council. The photograph shows her holding the first baby to be born there.
            Prof.Kabilsingh is a trustee for the Internaitonal Committee of the Peace Council. This telephone interview was recorded in 1998 by two American students of Buddhism, Holly Gayley and Rebecca Warner. It was previously published in Yasodhara vol.15, no.1.
.... READ MORE
---
 Asian Buddhism Connection (ABC)
The Sangha Agung Indonesia
in collaboration with
Network of Asian Theravada Bhikkhunis
Buddhasavika Foundation
Announces the
3rd   ABC Conference (ABC-3)
on
Buddhism, Women and Education
Jinarakkhitta Prasad,
Jakarta, Indonesia
September 15-17, 2018
Today's world is in dire need of peace much more than before. Among many religions and belief systems, Buddhism stands significantly prominent in pioneering peacefulness and mutual care. Being an Indic gift to the human civilisation, Buddhism in Asia has been a head source of the message. As you have seen in 2016, our ABC stood for not only a Conclave of ASEAN Buddhism in the form of international conference, the overwhelming support from academicians, scholars and practitioners, led our General Assembly commit to create  a larger platform. Hence, we have now our ABC becoming BIGGER and much more relevant in its new name: Asian Buddhism Connection. The new ABC stands for connecting with each other through academic scholarship, moral and monastic support and creating space for the women both as layperson as well as Bhikkhuni! Buddhism in Asia is at a cross-roads which require a wider interaction among peoples. While in the west, Buddhism is the fastest growing Way of Life, it has a very different scenario not only in decreasing number but also a common intra-analysis. The ABC Secretariat established at Wat Songdhammakalyani at Nakhon Pathom, Thailand, would address and analyse the issues with academic fervour as well as social commitment Venerable Dhammananda Bhikkhunī would be our guide and philosopher. She has been an established authority on women issues and Buddhism, while teaching at Philosophy and Religious Studies Department, Faculty of Liberal Arts, Thammasat University, Bangkok.
---
LINKS TO OTHER WEB.
- ON BHIKKHUNI IN THERAVADA, BHIKKHUNI DHAMMANANDA . .... READ MORE
-"METTAVALOKANAYA" Buddhist Magazine  .... READ MORE
- The final dates for our Second Vajrayāna Summit which is to be held from 28th to 30th March, 2018. ....
---
OUR NEWS
Samaneri Ordination in Hong Kong
Akkhra

Ven.Bhikkhuni Dhammananda and her team received invitation from  Ven.Bhikkhuni Uttaranandi , a Theravada bhikkhuni in Hong Kong to give ordination to Samaneri in Hong Kong.
This was scheduled for Dec.23,2017. Before that on Dec.21 and 22 Ven.Uttaranandi also arranged for Ven.Dhammananda to give public talks at the Teachers' Club and at the Mall in downtown HK. This went well though the audience was limited due to public function on the same date.
The temporary Samaneri ordination was given to 5 women on Dec.23,2017. There were 4 Chinese women and one woman from Philippines. Also 8 women received 8 precepts and were trained together with the samaneris. Ven.Dhammananda conducted classes everyday from 9-11 and 14-16 hrs. Morning and Evening chantings were led by Ven.Uttaranandi and the team of bhikkhunis from Thailand. In the evening  Ven.Asoka, a Chinese Theravada monk coming from China also came to help teach meditation. So it was full 7-days training for the candidates.
The venue was at Miukok temple in Feng Kat Herng village in Yuen Long City,NT.
This was a third temporary Theravada  ordination given to samaneris in Hong Kong  The first two happened in 2010 and 2014. This third time is however most complete with regular teaching every day.
It is not easy to organize this kind of event. But as long as there is some interest, the propagation of the teaching of the Buddha will continue.
---
The International Seminar on
"Strengthening Buddhist Root: Theravada Buddhist Nuns in Nepal"
Venue: Aksheswar Mahavihara, Lalitpur, Kathmandu, Nepal
Aug.27-28,2017
It was a wonderful experience to attend this seminar in Nepal. The programme was organized under a capable hand of Prof.Dr.Shankar Thapa, head of History Department, Tribhuvan University. Mr Rajesh Sakya, the president of Aksheswar Mahavihara was very far sighted in accepting to host this historic event.
Under the capable hands of both the persons mentioned. At the opening ceremony they were able to invite H.E.the embassador of Sri Lanka, and a representative of India from the Indian Embassy in Nepal.
For the first time I witnessed the presence of many Nepali nuns in pink robes, there must be 30 of them at least. Afterward I discovered that 3 of them in maroon robe came from South India. A large crowd of Nepalis were there to honor the occasion.
The chief guests were Ven.Dhammavati, the most senior nun in Nepal, due to her age, she sent a representative. Ven.Bhikkhuni Dhammananda the most senior Theravada bhikkhuni from Thailand spoke as a chief guest.
Prof.Dr Shankar Thapa the organizer, explained to the audience how they started to organize this seminar, and what was the purpose. Some locals were enquiring as they did not invite the monks. It was explained that this was the first time, so the organizers want to provide the space for the Nepali nuns to speak with comfort. According to the culture, the nuns, out of respect will not speak in front of the monks. .....Read More

3-Day training for Buddhist Laywomen
Akkhara

This year Ven.Dhammananda continued training for laywomen again. It started as early 25 years ago, at that time ven.Grandma (Voramai Kabilsingh) was 84 years old. Annually Dr Chatsumarn Kabilsingh (her daughter) always brought out a book of collected articles by Ven.Grandma. But that year, Ven Grandma completed 7 cycles, she wanted to do something special for her. She went and informed Ven.Grandma that for a change she would start a training for Buddhist women.
As an academic, teaching Buddhism, it was clear that though Thailand professes to have the highest number of her population as Buddhists (95%) but in fact very few of the Thai Buddhists really know anything about the teaching of the Buddha. It is a tradition for men to be ordained for 3 months but for women they did not have such privilege.
So a short training would be both necessary and important to bring Thai women closer to the spirit of Buddhism.
Thus she started this 3-day training project on April 6,1982. There were impressive number of women 108 attended that training. This  project has continued on up to present. It is called Buddhasavika training.
This year 2017, there were three trainings offered. The first one focused on visualization, the second one focused on leadership and the third one focused on service mind.


In this latest training 12-14 Aug.2017 there were 34 participants. They enjoyed the training. Some of them had previous exposture to the temples led by the monks, they reported that mostly they offered only chanting and meditation. Meditation for them is only long hours of sitting without any guideance. Where as with Buddhasavika their still enjoy the chanting and meditation. But meditation is offered with clear guidance and there was no long boring hours if sitting.
They play games and at each interval, they understood what the game meant to teach them. So they enjoyed and had an opportunity of participation, full participation.
Ven.Dhammananda sat with them most of the time and they have access to her teaching and guidance.
Also because it is a female monastery, the participants get to experience first hand to assist the bhikkhunis going for alms round. Previously this was done only by young boys walking after the monks.
            When the three days ended, they exchanged their line ad. So that they can come back to help offering their service and keep their ears open for the next training in 2018. Already Ven.Dhammananda announced the next one, training no.76 will focus on How to handle anger. We all need it, don't you think!
Apart from Ven Dhammananda, there are also Ven.Dhammavanna, Ven.Dhammaparipunna (Dr.Sireerat) and Dr.Kanjana Suthikul in her team.
---
Report on International Monastic Training
Akkhra
Ven.Dhammananda and her team at Songdhammakalyani Bhikkhuni Arama has just complete offering one month course on International Monastic Training (IMT).
                The first IMT started in 2015 with participants from India and Vietnam, there were total of about 20 participants. The first training covered the whole vassa which was a little longer than three months. The participants received all the monastic training and also history of Buddhism particularly on the lineage of the bhikkhunis.
                The second IMT was given in June, just prior to the vassa, this is to allow the participants to return to their respective temple to keep the vassa. There were 10 samaneris and bhikkhunis from Vietnam. The training was successful and a good relationship was established for the two sanghas in Thailand and Vietnam. There were also laywomen from Germany, Italy and Korea apart from the local Thai bhikkhunis.
                This year, 2017 there were participants from 11 countries i.e.Australia, Canada, France, India, Indonesia, Malaysia, Myanmar,Russia, Thailand, Vietnam and U.S.A. The material for the training was better prepared, apart from monastic learning and training there was also a counseling offered for a week by Ms.Low Miyen and Ms.Barbara Yen, both volunteers from Malaysia. The counseling was aim to better prepare the monastic to have some fundamental knowledge and experience of counseling. This is greatly appreciated.
                Participants had a good chance to learn the various chanting , even for funeral. They had a good experience of going for alms with the local bhikkhunis. They had a great opportunity to visit
The Summer Palace of King Rama VI in Nakhonpathom, and also a visit to Guan-In on the mount in Rajburi province.
                For participants who are bhikkhunis they also experience joining in Patimokkha recitation which for some of them, if they are staying alone, they will not have such opportunity. (There must be at least 4 members to recite Patimokkha) also they received Ovada (instruction) from senior monk prior to the actual recitation. The host bhikkhunis were also happy to have large attendance up to 17 bhikkhunis both from IMT and from local.
                Some of the participants stay on to further experience living among monastic community. On the last day of the training, participants who fully participated received certificate of their achievement and participation.
                The organizers are happy to plan for the next training, as the result of this year is very positive.
                During the training, there was also a discussion about the way to strengthen the network of Asian Theravada bhikkhunis. Many positive feedbacks were shared among the members, it confirmes that the Theravada bhikkhuni in Asian will be strengthen from their own commitment.
                As a reporter, I have total faith that the Theravada bhikkhunis in Asia will progress with the firm root in their spiritual commitment.

                Sadhu, sadhu, sadhu.
---
Temporary ordination of Samaneri in April,2017
Aksara
Sorry, I was doing everything else but the report. Ven.Bhikkhuni Dhammananda, my spiritual master, reminded me that I should write at least a brief report about the most recent ordination offered at  SDK (Songdhammakalyani Monastery). May be you are already familiar with our activities, annually we organized temporary ordination for female novices (samaneris) for 9 days.
This is fixed twice a year, in summer between 6-15 April, and in winter between 5-14 December.
Ven.Dhammananda just finished batch 18 on April 15. April is very hot season, so we are happy not to have it too crowded.
This batch 18 there were 24 candidates who received temporary ordination. The classes during the training went very well, all the three teachers, Ven.Mother, Ven.Dhammavanna and Dr.Kanjana Suthikul agreed that they enjoyed teaching this group. The samaneris were eager in their learning.  Statistically when we looked at their background, out of 24, 20 of them have at least B.A. and there were 2 candidates with Ph.D., two candidates with M.A. we agreed that level of education brings about the success of the teaching.
Among 24 of them, three of them proposed to stay longer. One of them was clear from the beginning that she is taking this ordination life long. This candidate has Ph.D. as her back ground thus, Ven.Mother is happy to have one more members to help her in her think-tank in the building of the bhikkhuni arama.
Presently we have 9 bhikkhunis, 3 sikkhamanas and 8 samaneris. A small sangha community which is finding their own space to grow. Each week they have a meeting to adjust  the members to fit the responsibility.
The next ordination is scheduled for Dec.5. If you are interested please look for registration form in our web. Also you can call direct 034 258270. Even if you cannot take it for a long time, temporary ordination is an experience, a rich experience for Buddhist women.
Modana Sadhu for the most recent batch of samaneris.  
---
International Monastic Training
Songdhammakalyani Bhikkhuni Arama and Buddhasavika Foundation organize an International Monastic Training every year.
2015, the training lasted through the vassa. There were 5 nuns from Vietnam and 4 from India with one laywoman participating in this Monastic training programme.
This year, 2016, we have scheduled the training for 4 weeks in June. This is to allow the participants to return to keep the vassa in their home town.
Who can apply? If you are Buddhist and interested in the training in a monastic setting, then you might be interested to join.
The participants attend classes on Buddhism ,history of Buddhism, history of the bhikkhunis, important points on the Vinaya, and how the vinaya is put into practice.
With the monastic setting, one is expected to attend morning and evening chanting, and meditation.
On full moon and dark moon, those who are bhikkhunis will recite Patimokkha together. Recitation of Patimokkha happens only if bhikkhunis stay together as a sangha. This is a golden opportunity for newly ordained bhikkhunis to be trained with other senior bhikkhunis.
Songdhammakalyani Bhikkhuni Arama is the first temple in Thailand providing a friendly space for international bhikkhunis to be trained together. Twice a week a group of 5 bhikkhunis will go for alms, candidates to the program can follow them. This is one of the highlight for the monastic training. We have been able to preserve this Buddhist tradition in a pristine manner.
There will  be sponsorship available for Indian  bhikkhunis  and women from other part of India. Also the Foundation will provide  travelling assistance to bhikkhunis from other Asian countries who need assistance.
The funding is limited, if you are interested kindly read the details of the program, then you can fill in the registration form on the next page.
If you cannot speak English, plan to come in as a group with at least one of you as an interpreter.
---
Sending you all the good waves of energy
Sri Akkhara
Dec.31,2016

2016 is passing by, and we are now eager to welcome 2017. Let me report to you whatt we have done in 2016 which is now slipping by very soon. Ven.Dhammananda was very active in the first part of the year.

Ven.Grand Ma's (Ven.Bhikshuni Voramai Kabilsingh) 108th birthday fell on April 6,2016. There was the usual temporary ordination of Samaneris. We brought out two books which were collection of Ven.Grand Ma's own writings taken from her monthly magazines. It is a way to preserve her teachings and pass on to the future generation.

Also Ven.Dhammananda ordered the casting of 200 Buddha images, this is the miniature of the Buddha statue which Ven.Grand Ma casted exactly 50 years ago at Wat Rajapradit in Ayudhya. To give you a brief story, when Grand Ma found it, the head of the statue was just put on the body after the Burmese raid of the capital in 1767 A.D. The head did not fit the body neither the size nor the style. So she had the head removed, casted a new  body to fit the head and casted the head to fit the body. As a result we now have to 2 main Buddha statues in the Uposatha hall of the temple. We offered 108 small replica of the Buddha statues to the temple. All the newly ordained samaneris were there to witness the offering.....Read More
---
A Journey to be a Theravada Bhikkhuni
Dhammananda Bhikkhuni
November 12, 2016

When my mother shaved her head, I was 11 years old. In Thailand in 1956, if a woman shaved her head, it was to become a mae chee (white robed nun). There was no ordination, just receiving the eight precepts. My mother, Ven. Voramai Kabilingh, never thought of becoming a mae chee—she told her preceptor, Pra Prommuni of Wat Bavornnives, that she would be wearing light yellow—and so it was. She turned her house into a small nunnery where more and more young women joined her... Read More
---
The Network of Asian Theravada Bhikkhunis.
Sri Akkhara
Ven.Dhammananda requested that I work on this article as it is very important for the movement of bhikkhunis in Asia. Unless recorded, event will pass by unnoticed, and to write about it later, we definitely will miss out certain important details.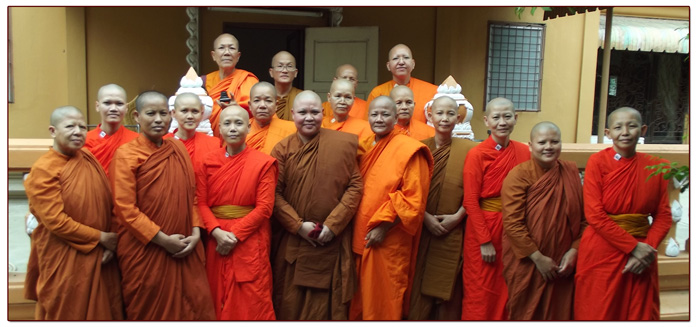 In this part of the world when we searched through scanty available reading materials, we have glimpses of women here and there searching to lead a monastic life as prescribed in Buddhist history.
In Sri Lanka, being a historical center for bhikkhunis from 3rd Century B.C. is also a center for Theravada bhikkhunis in the present era. The revival of Bhikkhunis in Sri Lanka started in 1998 with the assistance of Fo Guang Shan to start the international ordination for bhikkhunis successfully in 1998. The lineage of bhikkhunis in Sri Lanka started from this ordination.
In Thailand, the very first case of bhikkhuni emergence came in 1928, with the well known two sisters, Sara and Chongdi. But the story was soon made silent.
---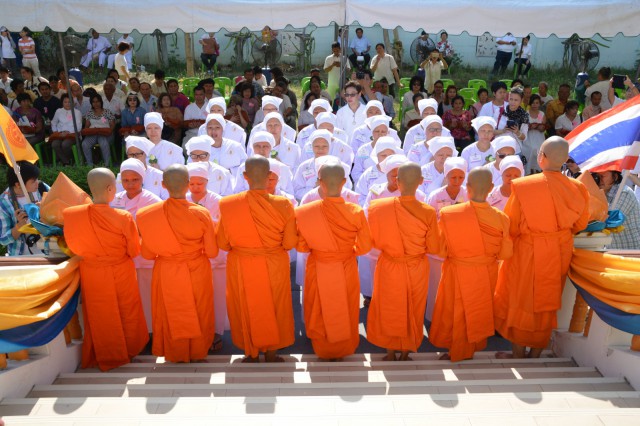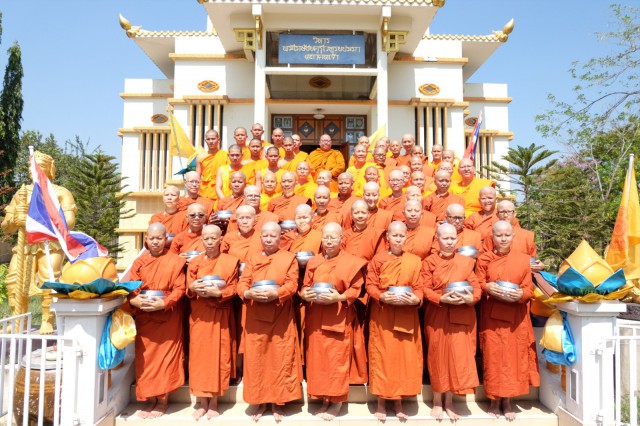 Temporary Samaneri ordination at Songdhammakalyani Bhikkhuni Arama
Songdhammakalyani Bhikkhuni Arama has  organized temporary ordination since 2008. The bhikkhuni sangha here, offer temporary ordination twice a year, Apirl 6 and Dec.5. Thus the latest  one took place on April 6, it is 16th ordination given.
Each time there would be 30,40,50 women joined. Dec.5,2015 was a special one, there were 108 candidates. The occasion was to celebrate  the completion of Yasodhara Vihara.
Thus, Ven.Dhammananda has given Samaneri ordination to not less than 500 women. She was also invited to give the same ordination in Payao, northern part of Thailand and also Songkhla in the south.....Read More
Registration form (EN)
Registration form (TH)
---
Weekly Meditation

Every Saturday, Sunday at 8.00-9.00 A.M. meet Ven. Dhammananda for an hour of meditation.

For more info. call 034 258 270