The Network of Asian Theravada Bhikkhunis.
Sri Akkhara
Ven.Dhammananda requested that I work on this article as it is very important for the movement of bhikkhunis in Asia. Unless recorded, event will pass by unnoticed, and to write about it later, we definitely will miss out certain important details.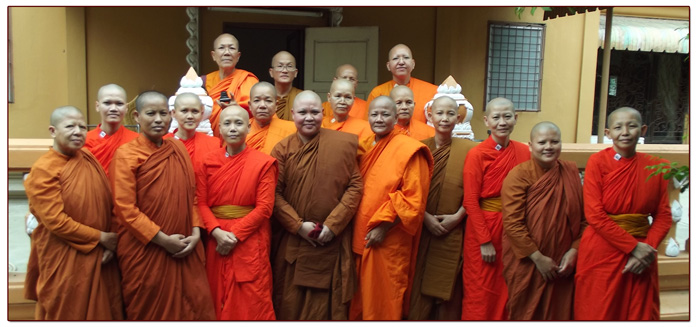 In this part of the world when we searched through scanty available reading materials, we have glimpses of women here and there searching to lead a monastic life as prescribed in Buddhist history.
In Sri Lanka, being a historical center for bhikkhunis from 3rd Century B.C. is also a center for Theravada bhikkhunis in the present era. The revival of Bhikkhunis in Sri Lanka started in 1998 with the assistance of Fo Guang Shan to start the international ordination for bhikkhunis successfully in 1998. The lineage of bhikkhunis in Sri Lanka started from this ordination.
In Thailand, the very first case of bhikkhuni emergence came in 1928, with the well known two sisters, Sara and Chongdi. But the story was soon made silent.
In 1956 there was another case of a Thai woman,Ven.Voramai Kabilsingh who was fully ordained in 1971, but the lineage was from Taiwan, thus considered Mahayana.
Theravada bhikkhuni lineage in Thailand actually started in 2001 with the ordination of Associate Prof. Dr Chatsumarn Kabilsingh, daughter of Ven.Voramai Kabilsingh. She received her ordination lineage from Sri Lanka and thus opened a steady ground for Thai women to follow her path.IN 2003 she received her full ordination to become the first Theravada bhikkhuni in Thailand, up to date there are more than 100 bhikkhunis in the country.
In Indonesia, the first group of 4 maejis were ordained as bhikkhunis in Taiwan, the Theras from Sri Lanka confirmed their ordination and thus Indonesia also started bhikkhuni ordination in 2000. The leader of this group is Ven.Santini. At this stage, there are 5 Theravada bhikkhunis with her. But also in another group they also took ordination from Sri Lanka and there are at least 2 Theravada bhikkhunis,i.e.Ven.Thitacarini and Dhammacarini. The latter ones are working towards their Ph.D. in Sri Lanka (2016)
In Vietnam, Theravada bhikkhunis emerged in 2002 with the ordination of 4 nuns, the one who leads the group is Ven.Lieu Phap, also later she got her Ph.D. from Delhi University. VEn.Dr.Lieu Phap is a lecturer in a Buddhist University in Vietnam apart from running a temple where she teaches a group of samaneris and bhikkhunis.
Also in 2012 She was the key figure to arrange for the first International Theravada bhikkhuni ordination in Vaishali, India. Nine nuns from three countries received ordination as bhikkhunis.
In 2012 Barbara Yen, organized an opening of Gotami Vihara in Malaysia. It was at this ceremony that all the leading bhikkhunis in Asia came together and agreed to form a Network of Asian Theravada Bhikkhunis.
Ven.Dr.Lieu Phap proposed cannon ball flower as a logo of the group as it has five petals, and the founding members were from five countries, Indonesia, Vietnam, Thailand,. Malaysia and Sri Lanka.
In that year, Malaysia still did not have bhikkhunis but it was represented by Ven.Sumangala who was still a samaneri. Indonesia was represented by the most senior, Ven.Santini, Vietnam was represented by Ven.Dr.Lieu Phap, Thailand was represented by Ven.Dhammananda and Sri Lanka was represented by Ven.Bodhicitta.
After the forming of the Network of Asian Theravada Bhikkhunis, in 2014 all the senior bhikkhunis came for a monastic training at Songdhammakalyani Monastery in Thailand. Ven.Vijitthananda invited Ven.Bhikkhuni Dhammanandi from Sri Lanka to give them instruction on various sanghakamma.
These senior bhikkhunis have completed 10 vassas and are entitled to become kammavacacarinis and soon after 12 vassas, they can be appointed as pavattini.
Each of them received appointment to become Pavattini. Ven.Dhammananda was appointed by Ven.Maha Nayaka Mahindavamsa on Nov.29,2014, among 20 Theravada monks. This happened at Thipayasathandham Bhikkhuni Arama in Songkhla, Thailand. Ven.Santini was appointed pavattini in 2015 in Maribaya, Indonesia. Ven.Dr Lieu Phap (Vietnam) together with Ven.Vijitthananda (Sri Lanka) were appointed pavattinis by Sri Lankan bhikkhu sangha on Jan.30,2016.
So the leading bhikkhunis who are members of the Network of Asian Theravada Bhikkhunis are Pavattinis by vinaya.
Ordination
Apart from the regular samaneri temportary ordination which Ven.Dhammananda organizes regularly at her temple twice a year for the past 8 years, the Network of Asian Theravada Bhikkhunis also organized international Theravada ordination for bhikkhunis. The first one was organized by Ven.Lieu Phap in Vaishali, India,2012. The second one was organized under the banner of the Network at Sakyadhita Center in Sri Lanka, Jan.30,2016. There were 11 bhikkhunis, 3 from Vietnam, 3 from Thailand, and 5 from Bangladesh.
International Conferences
Under the banner of the Network, an international conferences were organized.
Oct.6,2015 the Network joined hand with Buddhasavika Foundation and Buddhabhat Research Unit, Nakhon Pathom Rajabhat University in Thailand organized a one day conference on ASEAN Bhikkhunis Conference. There were bhikkhunis from Indonesia, Vietnam,Thailand,Malaysia and India presenting their papers giving an over all picture of bhikkhunis in each country. In the audience there were bhikkhus, bhikkhunis and some 1000 students from Rajabhat University attending the conference.
For the first time, the issue of bhikkhunis were discussed at an academic forum and was well received.
Among 10 ASEAN countries there are bhikkhunis only in 4 countries. The second conference to follow up on the first one extended the base to include all Buddhists, thus the conference was still ABC but this time it stands for ASEAN Buddhists Conference.
Dr Amarjiva Lochan from Delhi University stepped in to help organizing the conference and lift it up to a real international level. The Venue was still Nakhon Pathom Rajabhat Uiversity. The actual conference was scheduled for Sept.22-23,2016.
H.H.the Dalai Lama was kind enough to send a message for the organizers and participants of ABC.Ven.Ajahn Brahm (Brahmavamso) a well known English monk from Theravada tradition in Thailand chose to accept ABC invitation over an invitation from the Government of India. Because of his acceptance, he helped unlock many doors to follow. His speech was on "We are on the fight side of History" he encouraged the bhikkhunis to continue their good work and expressed his full support.
As it turned out there were participants from 22 countries. There were bhikkhus, bhikkhunis, laymen and laywomen. The fourfold Buddhists as intended by the Buddha.
Ven.Dr Lieu Phap is now the president of the Network and all the senior Asian Theravada bhikkhunis, realizing their limitations from each country work very harmoniously together. Thus becomes the backbone of the movement.
At ABC also there were strong participation of the local Thai bhikkhunis, which is making a positive statement for their progress.
This ABC will continue to meet every 2 years, the next one in 2018 the organizers are in the process of making connection for possible host and the venue is most likely to be Vaishali, India.
With a clear interest expressed at the conference, ABC goes one more step to change from ASEAN to Asian. Thus from now one, ABC stands for Asian Buddhists Conference.
Inter-dependently the Buddhists stand together to serve Buddhism.
ABC is the ground for all the Buddhists to connect, to share and to work together.

ABC is not interested in collecting academic papers only, but ABC is concern about the existing problems and how can we, Buddhists can overcome together.

Immediate action after ABC, senior bhikkhunis, i.e.Ven.Santini from Indonesia and Ven.Dhammananda (Thailand) with bhikkhuni sangha went to Bangladesh to help the newly established bhikkhuni sangha to consecrate the sima and to receive Kathina robe. (Oct.28,2106)
The Network is also planning to organize the annual international bhikkhuni ordination in Sri Lanka in the near future.